Product Description
DS10 contact scanner
When accuracy is crucial.
High accuracy scanning. NOW INTEGRATED WITH SHINING 3D!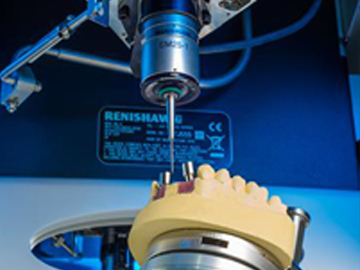 The DS10 scanner uses a patented non-cartesian mechanism.
Unlike conventional designs, this provides a lightweight and cost-effective structure that enables high-accuracy processing in a compact device. This means that even the smallest lab can accommodate a scanner.
Renishaw's DS10 is based on an innovative but well proven mechanism, providing exceptional accuracy in a compact, lightweight package.
With accuracy tested to ISO 10360-4, the DS10 achieves superior accuracy through the use of Renishaw's contact scanning technology which has been used in thousands of measurement applications worldwide, including critical applications such as aerospace engine parts.
Features at a glance
Abutment scanning pins
Bite impression scanning
Full bridge scanning
Implant bridge position measurement
Wax scanning
Product Videos
Custom Field
Product Reviews